Kids in the Park is Back!
---
---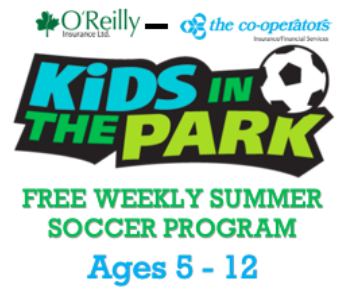 ---
This year's Kids in the Park will require participants to register online for a week set program consisting of four (4) days, Mon to Thurs (excluding Mon Aug 3) with 1 hour sessions per day. We are welcoming children between the ages of 5 to 12 to take part but any child between the ages of 5-8 will require a parent/guardian/sibling to actively participate with them on-field to ensure social distancing takes place. Children may register for ONLY ONE of the 12 weekly program options and space is limited with only 14 participants being accepted for each weekly program.
Oh I should mention ..... IT'S TOTALLY FREE to take part in the program. Registration is open NOW for all weekly options and will close Thursday midnight prior to each week's set program. Register NOW and don't miss out!
Jul 13-Jul 16 Al Anderson 2, 203 Hampton Circle

10:00 AM - 11:00 AM
2:00 PM- 3:00 PM
Jul 20-Jul 23:Rochdale 6, 402 Redberry Road

10:00 AM-11:00 AM
2:00PM - 3:00 PM
Jul 27-Jul 30:Wallace Park 2, 903 Stensrud Road

10:00 AM-11:00 AM
2:00 PM-3:00 PM
Aug 4 - Aug 6: Meadowgreen, 2515 18th Street W

10:00 AM-11:00 AM
2:00 PM-3:00 PM
Aug 10 - Aug 13: Wildwood 6, 315 Rosedale Road

10:00 AM-11:00 AM
2:00 PM-3:00 PM
Aug 17 - Aug 20: Blair Nelson 1, Vic Boulevard

10:00 AM-11:00 AM
2:00 PM-3:00 PM