Indoor Season COVID Precautions
---
---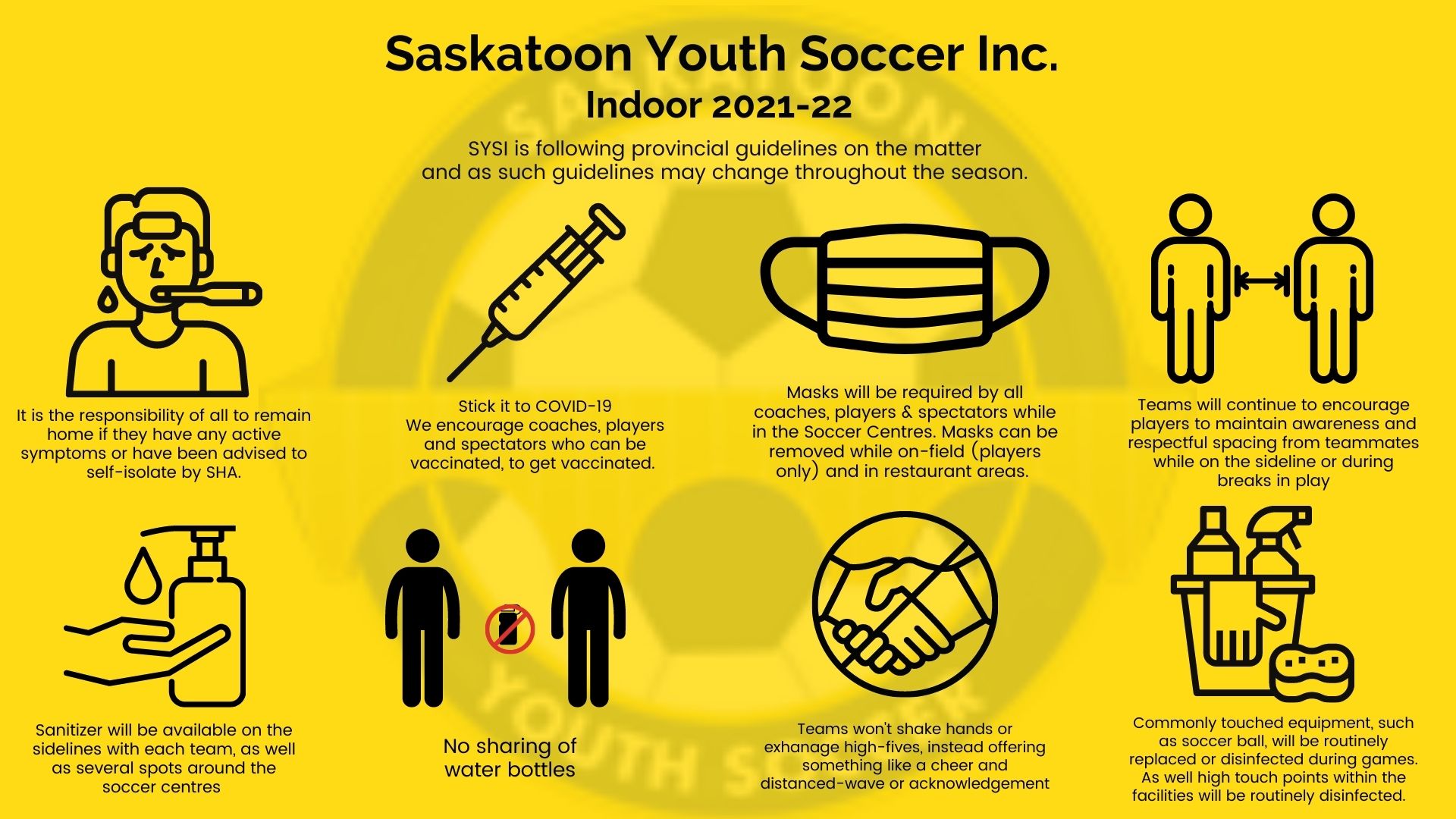 ---
Good afternoon SYSI registered soccer players and families,
Saskatoon Youth Soccer Inc., Saskatoon Adult Soccer Inc. and Saskatoon Soccer Centre Inc. are committed to providing a safe, clean, and fun place to play! We continue to closely monitor the ever-evolving COVID-19 situation and are seeking opportunities to provide programming while mitigating the risks of the virus to our players and families. We are excited to welcome our members, community, and guests back to the SSCI facilities and our leagues for the 2021-22 season!
The health and safety of all is our focus. All SYSI and SASI members and other users of SSCI facilities must review these policies and procedures, distribute to all affected participants, and ensure they understand and will adhere to these policies and procedures.
Please see below measures which will be in place for the indoor season. We sincerely hope the following helps you in making an informed decision for your family and helps you to continue to choose soccer this coming season.
Wellness & Hygiene

All participants self-monitor for symptoms, stay home if sick and seek a COVID-19 test. The Know Your Risk checklistcan help you with that personal assessment. People who are fully vaccinated are no longer considered a close contact.
All persons entering the facilities are to practice good hand hygiene before and after soccer activities and/or spectating. Wash your hands often or utilize hand sanitizer and exercise good cough and sneeze etiquette.
Sanitizer stations are available throughout the facilities. Everyone is encouraged to also bring their own for personal use.
Vaccinations

We strongly encourage all eligible players, team personnel, referees, volunteers, parents, and spectators to be fully vaccinated as a show of care and concern for others.
We will not mandate a vaccination passport at this time without our government, Saskatchewan Health Authority (SHA), governing bodies, or fellow associations partnering with us.
Masks

Masks are required for all persons entering the soccer facilities. Players and referees will be permitted to remove their masks while on the pitch if they so choose; All patrons must provide their own masks or purchase one at Guest Services for $1.
Team personnel within SYSI leagues will be required to wear a mask on-field.
Social Distancing

Teams will be encouraged to social distance on the sidelines and during breaks in play, are not to shake hands or give high-fives, and are not to share water bottles.
Physical distancing is encouraged within all areas of the facilities including, but not limited to, seating areas, main foyer, and mezzanine levels.
Facility Measures

Additional cleaning will occur in public and high traffic areas, washrooms, and mezzanine areas.
Saskatoon Soccer Centre Inc. (SSCI) is committed to providing a healthy sports environment. Our indoor facilities are equipped with mechanical ventilation systems designed to provide fresh air throughout the buildings.
Sanitizer stations are available throughout the facilities. Everyone is encouraged to also bring their own for personal use.
Dressing Rooms - Designated dressing rooms and showers are available no more than 30 minutes before game time. Absolutely no changing on the fields or in public areas. Please vacate dressing rooms post game within 20 minutes, or at the request of the SSCI Service Team.
We will continue to monitor the status of COVID-19 in our city, as well as the available options pertaining to your safety. The Saskatoon Youth Soccer office remains closed to the public. We remain committed to our members and will continue to be available by phone and by email. We appreciate your understanding during this challenging period. If you have any questions, please contact SYSI at 306-975-3413 or info@saskatoonyouthsoccer.ca.
Sincerely,
Saskatoon Youth Soccer Inc.